There's a downside to driving older cars as daily driver: Some things we are used to, such as Bluetooth audio streaming and hands-free calling, are not always available – even in an upmarket cars like the E-class. Here are some options for the W211.
Bluetooth cradles
Hands-free calling is relatively easy to tackle if your car is equipped with the phone preparation option and UHI interface. Mercedes sold several phone-specific cradles for the UHI interface (including the iPhone 3) that allowed placement of the phone in the cradle for charging and making calls. These are of course useless these days. Mercedes also sold Bluetooth cradles for wireless connection to a phone. These come in two flavours: SIM Access Protocol (SAP), which these days isn't supported by many phones, and Hands-Free Protocol (HFP), which should be supported by all modern phones. Original Mercedes cradles were very expensive and still cost quite a bit of money on the used market. An alternative are the Viseeo Bluetooth adapters. Viseeo sold several models, such as the MB-2, MB-3, and MB-4. The MB-4+ is the latest model, the MB-3 came with an USB socket and integrated FM transmitter for streaming audio to your radio. All of these are no longer available new, but you can find them on the used market quite easily.
Bluetooth cradles for the UHI interface don't support audio streaming, only hands-free calling. I've acquired a Viseeo MB-2. I've not yet managed to get contact synchronization to work, but hands-free calling using the car's speakers and microphone works fine. There's even a button to activate Siri, which is of little use as the cradle is hidden away in the armrest.
Bluetooth AUX adapters
Depending on the type of radio/navigation system installed, your car may be equipped with a 3.5mm AUX jack input in the glove compartment. Luckily, mine does. You can hook up your phone with a cable, which requires a splitter if you also want to charge at the same time. The alternative are Bluetooth receivers that can output audio through a 3.5mm jack. These are easy to come by. Most require a USB port for power. Apparently some W211s have a 12V socket in the glove compartment – if that's the case with your car, you can use a 12V to USB adapter to power the Bluetooth adapter. If not, you'll either have to find suitable power wires in the vicinity and drill a hole (I've investigated this, and it doesn't seem to be as straightforward and easy as one might think), or use an adapter with built-in battery. I've for now chosen to go with the latter option, an adapter made by ugreen. The downside is that you need to manually turn the adapter on and off, and charge it in regular intervals.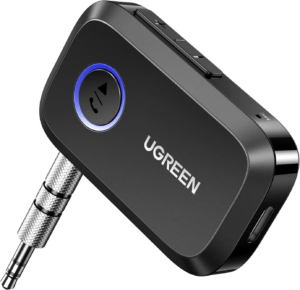 If your car doesn't have an AUX input, you can try a bluetooth receiver that has a built-in FM transmitter, such as the Dension Compact BT.
Kufatec FISCON
The FISCON by Kufatec is a complete solution that enables both hands-free calling and audio streaming. If your car is already equipped with a phone module, this has to be removed/disabled. A new microphone needs to be installed. This solution may also require some coding to enable phone use (on cars that didn't have the phone enabled yet) and audio. The Bluetooth audio is then available as CD changer.
This solution is not cheap (around €500 plus installation and coding), but looks like the nicest option if you want something that is fully integrated with the original radio.
Mr12Volt Digital Music Changer
This is a cheaper solution which appears to offer functionality similar to the FISCON. It also uses the CD interface for audio output. I'm not sure whether the phone functionality is as integrated as with the FISCON, i.e. it might not be possible to dial using the radio.The Dension Gateway 500S BT seems to be a similar but considerably more expensive option.
Android headunit
Finally, there's the option to complete replace the existing radio or navigation system with an aftermarket Android head unit. There are many options here, from really cheap AliExpress models to the more expensive Dynavin stuff. The better models look very similar to an original COMAND system. An Android head unit does of course offer much more than simply adding Bluetooth capability: you get a full Android system, including things like Google Maps. Even Carplay/Android Auto and DAB is possible. You'll probably need to install a new microphone, and apparently in some cases it is necessary to run wires to the car's trunk.
With an Android head unit, you'll lose some of the car's originality – but if you want the most functionality, then this is the way to go. I'm not sure however how tightly these integrate with the car and if you retain e.g. the ability to set the clock.