It's a year since we have received the key to our new house and hence the garage. This is what it looked like back then. For several months during the renovation of the house, the garage served as storage. Then after we moved it, I could start clearing it out and arranging things. This is the current state of affairs: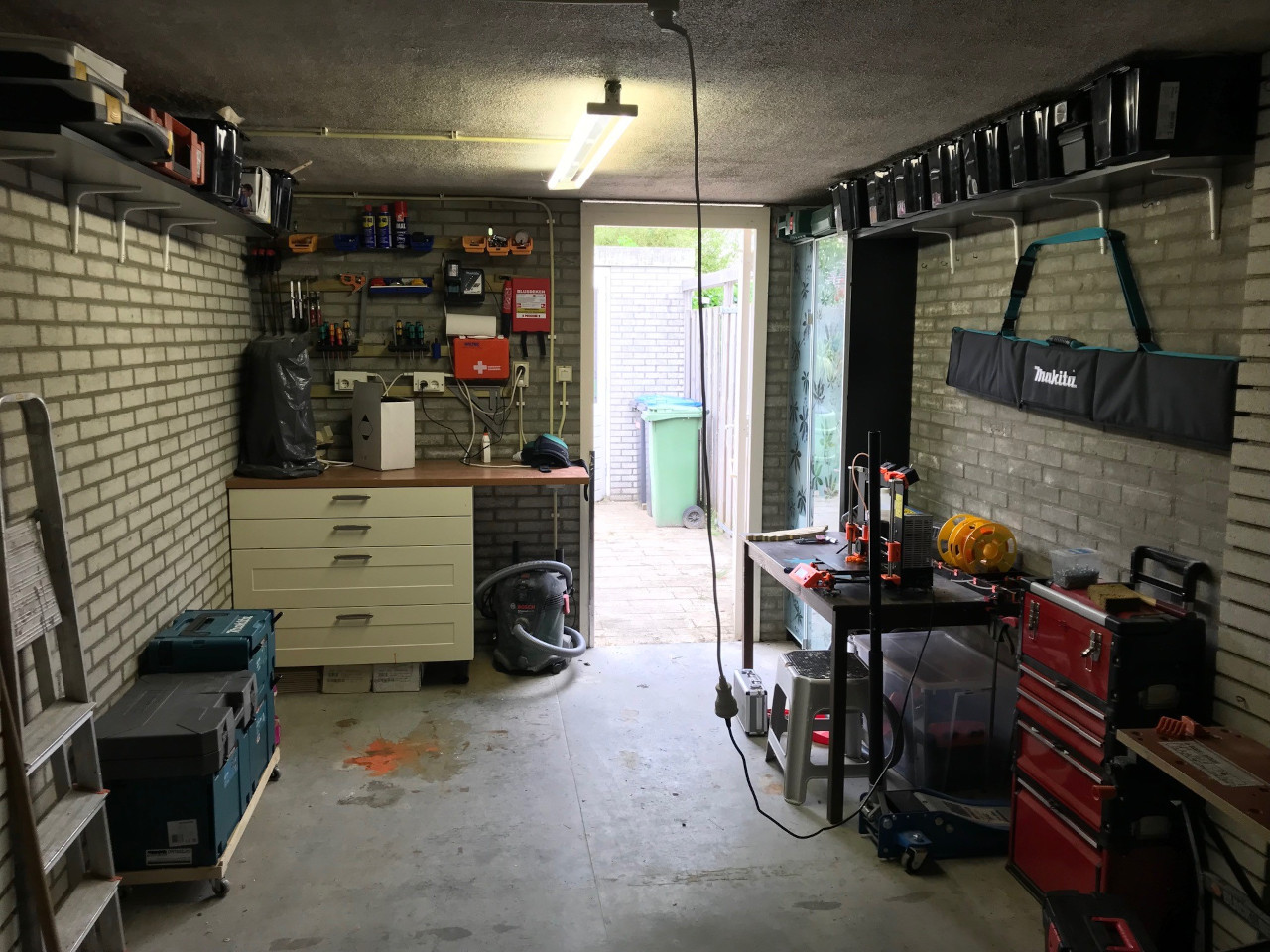 What I have done:
Removed the old kitchen cabinets that served as workbench, but took up a lot of space.
Added another old kitchen cabinet as workbench. This cabinet has four drawers, which is excellent storage.
Removed the non-functional garage door opener.
Moved two storage racks to the shed and donated two more to the office.
Added an Ikea Billy and shelving for more storage, but leaving space for parking a car.
Things I haven't tackled so far:
I haven't painted the garage yet. After painting half a house, my desire to paint the garage was low. At this point I'm not sure if I will at some point.
The floor is still concrete. My original plan was rubber tiles, but these are quite expensive. I also considered an epoxy floor, but I would have to remove the cabinets to do so, so it is unlikely this will happen. I might add a few rubber tiles around the workbench.
Lighting is still flourescent. This is currently sufficient, but I will definitely add more LED lights should I e.g. start working on a car in this space.
I want to convert the table into a fold-up workbench. The table currently holds my 3D printer, but once it gets colder and condensation threatens, this has to go back into the house. So this is a job that will probably happen before the winter, enabling me to park the car inside when it's cold outside.
Climate control is an issue. With no insulation and a large gap at the bottom of the garage door, it's practically impossible to keep the garage warm in the winter and cold in the summer. Heating or air conditioning would probably be a waste of energy. My solution is to stay out when it's very hot or cold, a heated jacket might be an idea for the winter.